One of the criteria for a certified compostable product is that it must be fully composted within 90 days. Depending on the origin, compostable waste generated will go to one of two type of composting streams described herein.
Commercial stream
Compostable waste generated from commercial facilities such as office and light industrial buildings will go to commercial composting facilities. Many commercial haulers will accept a variety of products certified compostable by the Biodegradable Products Institute (BPI), however this is not universal. Therefore, it is important to check with your property manager or commercial collection company to confirm what compostable waste is acceptable at your facility. Certified compostable products will have their certification information printed on the actual product, along with logos as per figure 1 below.
Residential stream
Compostable waste generated from Calgary single family homes (i.e., the Green Cart program) goes to the City of Calgary's composting facility. Since this facility is set-up with a shorter turnaround time in comparison to most local commercial composting facilities, it only accepts compostable products that breakdown under the conditions present at the facility. The City of Calgary recently conducted testing of various single use compostable products to determine which compostable products meet the facility requirements. Based on the results, the Green Cart program accepts certified compostable paper/fibre-based food and beverage containers (listed as "certified compostable" and/or that include a certified compostable logo as per figure 1 below), food soiled paper (e.g., napkins and paper plates) and certified compostable plastic bags; no other compostable plastic products are accepted. To learn more, visit:
What can't go in your green cart
Fiber based takeout food containers and cups are compostable
Products that are not compostable
Due to the recent focus on sustainability and plastic elimination, some companies have taken up the unethical practice of greenwashing to promote their products. Greenwashing is the process of conveying a false impression or providing misleading environmental product information. Products that are labelled "bio-based", "starch-based", "biodegradable" and "oxo-degradable" are not compostable or recyclable due to their chemical makeup.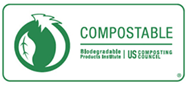 Figure 1: Examples of Biodegradable Products Institute (BPI) Certified Compostable product labels.
Submitted by the BOMA Calgary EH&S Committee